Psychedelic Disney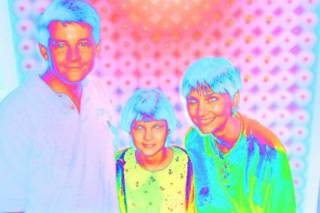 My Family, Walt Disney World, October 1999.



I was reading through some of the help files for Blogger and decided to try publishing a photo just to see how it works. I downloaded the Hello program suggested by Blogger, and it looks like it's worked pretty well. My picture showed up, at least!

I looked through my photos to find one to publish here, and found this photo we took at Walt Disney World in October 1999. I believe it was at a Kodak display, but I might be wrong about the company. Anyway, after we took the picture, we got to play with the display and distort the photo, then we could e-mail it to ourselves. The nondistorted photo is pretty decent, too, but I like the psychedelic look better.

I'm not a fan of amusement parks, and so I was definitely not interested in WDW myself, but I was willing to go because I knew my husband and daughter would really like it. I was quite surprised when it turned out to be the best vacation we've ever had. I wouldn't want to go to WDW during a busy time, but October was a nice time to go.

We stayed at the Beach Club right outside Epcot, and our accommodations were great. We had easy access to Disney's transportation system, and we had Park Hopper passes, so we could come and go as we liked to all the various theme parks. Our favorite park by far was Epcot. We went there nearly every day.

The only dim spot in our vacation was that our daughter got sick at the end. We had tickets to see Cirque du Soleil, and she was too sick to go. My husband coincidentally was going to attend a seminar at WDW a couple of weeks later, though, and we found out that we could exchange two of our tickets for when he'd be back. So the two of them stayed at the hotel while I went to the show alone.

Cirque du Soleil was spectacular, but I really missed having my family with me to ooh and aah with. Seeing a show like that alone was definitely weird. My husband got to see the show when he returned for his seminar, and he also saw it alone. Our poor daughter missed out completely. But we made it up to her a few years later: Cirque du Soleil appeared in Columbus, Ohio, just a few hours away from us, and we took her to that show.

Well, I didn't know what I would write about today, but I sure didn't expect it to be about a vacation from five years ago!